A Birthday Party Your Child Will Never Forget!
Oconomowoc's Best Place for Kids Birthday Parties
Celebrate your child's special day with an action-packed, martial arts themed birthday party! Our experienced instructors will lead your child and their friends through a series of exciting martial arts games, drills, and challenges that are sure to get their hearts racing!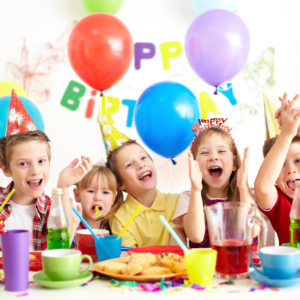 Contact Us For Availability
Call 262-888-3434 for more information, availability, and to save your spot!
Pick an option below that best suits your budget and needs! 
Your child and their friends will experience a birthday party at Momentum Martial Arts they will never forget!
Choose from the following options:
Basic Party Package:
1.5 hours total
1 hour of martial arts activities and other games led by a Black Belt Instructor
30 minutes for food and presents
Tables and chairs
Free printable invitations customized with your child's name
Birthday child breaks a board
Up to 20 guests

Cost: $197
Deluxe Party Package:
2 hours total
1.5 hours of martial arts activities and other games led by a Black Belt Instructor
30 minutes for food and presents
Tables and chairs
Free printable invitations customized with your child's name

Birthday child breaks a board

Up to 20 guests
PLUS:
Plates and napkins
3 Large pizzas
1 Bottle of water for each guest
1 White belt for each guest
Cost: $347